History
Our church is named Calvary Protestant Church
E.F.C.A.
 We have been affiliated with the Evangelical Free Church of America since 1961. Prior to that we were part of the Methodist Protestant denomination which was dissolved in 1938. After the dissolution, we were totally independent until 1961.

The history of our Church goes back to 1857 when a group of worshipers decided to break off from the Baldwin Methodist Church. They saw a need for a neighborhood church for those living in Baldwin Harbor. An organ was beyond the means of the fledgling group, who sang without accompaniment. Sometime prior to 1890, they were able to build a small church at our present location on land donated by Mr. William Soper.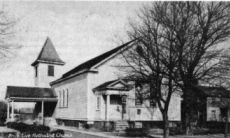 By the mid 1890's the congregation had grown so much (164 attended Sunday School) that a new building was needed. This new building had a covered bay to receive horse drawn carriages on rainy days (state of the art in its day).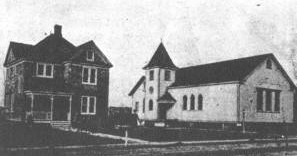 The photo on the left shows the building as it stood facing south on Church Street. Some time later a manse (parsonage) was constructed to the west (also facing south). The manse was later moved  to its present location a few hundred feet to the north facing west on Park Avenue, sometime after 1923 to accommodate the construction of the new building at its present location.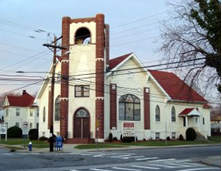 In 1923 fire destroyed the second building just after it had been repainted and newly carpeted. Until the new (present day) building was finished (October 1926) the congregation met in Steele School diagonally across the street. In the mid 1950's a gym was added to the rear of the building by Ben Combs, a friend of the Church from Lynbrook Trinity Church. In the 1960's another addition provided a nursery and boardroom. Pictured to the right is the present day building. The manse can be seen to the left (the smaller red roofed building).